Today, let's meet my second great grandparents, Jonathan Townsend Johnson and Sinah Amelia Bell. Married in Madison County, Ohio on November 1, 1852; they became parents to 13 children. My great grandmother Lillie Mae Johnson Darnold was their last child, born in 1875.
Jonathan is the first son of Jeremiah Jefferson Johnson and Mary Bryant (maybe Bryan). Born in New Jersey on February 25, 1830 his middle name is a connection to his maternal grandmother, Rhoda Townsend.  Those naming traditions of the past sure are handy clues for family researchers, aren't they?
By 1850, the Johnson family had made its way from New Jersey to Madison County, Ohio where he met Sinah.
The daughter of George Washington Bell and Elizabeth Mitchel or Mitchell, Sina Amelia was born on December 30, 1833 in Madison County.  Sinah's one nine children and has two half brothers as well! Sinah's name is often seen as Sina, Siner, Sime, Sinar, Senah…gotta love those early census takers.
We know very little about their lives. My sister and I are currently scouring the digital newspaper archives for our Gorrell line and I think when we are ready to move on, I'll turn to this Johnson family. Fortunately, from about 1880 they lived in Taylor County, Iowa so there may be a good paper trail. Prior to that, they're found in 1870 in Randolph County, Indiana and in 1860 they are still in Madison County. I'm also hoping to nail down a tantalizing Civil War registration that I believe to be Jonathan.
One interesting tidbit… Janice was told that Sinah had "the gift". Honestly, this doesn't surprise me; it seems to run in the family!  Spiritualism was a progressive, modern movement during their lifetime so perhaps I'll find some fascinating bit of history.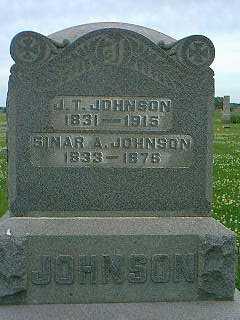 Sinah died in 1909, Jonathan in 1915.  Her death date is incorrect on the stone. She is on the 1900 census, living with Jonathan in Dallas, Taylor County, Iowa.  She is 60 and he is 62.  According to a long time family researcher Herb Bell, she died in 1909 although I have yet to find an actual death record.  They are buried in Guss Cemetery, Taylor