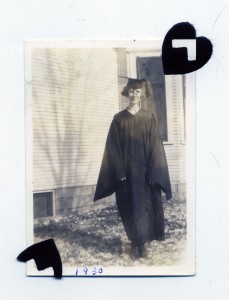 My grandmother, Clara Tollman Anderson attended Nebraska Wesleyan College and graduated in 1930. She majored in chemistry and math, unusual majors for a young woman of her time.   Throughout her college years she kept a scrapbook that happily found its way to me not long ago.
In grandma's scrapbook I discovered an entirely new woman. My quiet, serious grandma had been a sorority girl socialite on campus! She was a member of the Phi Kappa Phi and The Order of the Golden Chain (a sorority for Methodist women). She kept mementos of parties, socials and other events spanning her life from 1926 until shortly after her graduation.
Among the pages were lots of photos of her sorority sisters. Some with full names, some just first names and many with no names at all.  Beautiful young women that had been an important part of her life, now just faces in a scrapbook.
I have the good fortune of having a lot of family photos spanning many generations.  There are also pictures of friends, classmates, and even places that were all important to my ancestor's lives but have less value to us today.
These pictures have been really bothering me for a couple of years.  Remembering the thrill of discovering new photos, I wanted to somehow share these pictures with the hope that one day someone else would finally find that missing person they've never seen.  I knew these friends and classmate photos needed to be online somewhere.
So, I created a Facebook group Forgotten Faces In Time specifically for sharing these types of photos. The ones with partial identification.
Yes, I do know about the many blogs and websites that exist and already host thousands of unidentified photos. But my idea and this new Facebook group is different. I have created a place for anyone to share photos that they can partially identify. This distinction will help make these photos more searchable and that, hopefully, will make them easier for descendants to find.
So, I'm inviting you to share your partially identified photos with the world. Together we can help our families friends and classmates connect with their own family researchers. Come share at Forgotten Faces In Time on Facebook today.  https://www.facebook.com/groups/473127579456329/